Basic Principles
As a thriving community health center working to respond to our patients' health needs, we offer multifaceted treatment of various urological diseases.
Our goal is satisfaction and trust of our patients.
Diseases
Diseases of kidney ureter urinary bladder (stones, inflammation, tumors)
Hematuria (blood in urine), Hyperactive bladder, urinary incontinence
Deseases of male reproductive organs
Dysuria due to benign prostatic hyperplasia, acute and chronic prostatitis, epidydimitis, balanoposthitis, hydrocele of the testis
Prostate cancer screening and diagnosis (PSA, MRI, prostete biospy)
Male infertility, partial androgen deficiency in aging male (PADAM), ED, STD
If you have any questions or health concerns please feel free to contact us.
Diagnostic tests
Urine and blood analysis, hormone analysis, PSA (prostate cancer marker), uroflowmetry, semen analysis, ultrasound examination, flexible cystoscopy, X-ray, CT scan, MRI
Urologist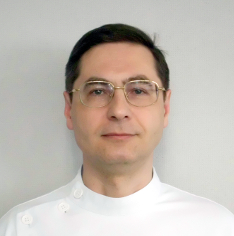 Vladimir Bilim,
M.D., Ph.D.
Head of Urology Department
Area of expertise
General Urology, Urologic Oncology
Education and Career
Graduated Khabarovsk State Medical Institute, Khabarovsk, Russia
Japanese medical license
A doctoral course, Niigata Univeristy, Niigata, Japan
Board sertified Urologist (Russia and Japan), Member of Japanese Urological Association
Active Member of Japanese Cancer Association
Active Member of American Association for Cancer Research